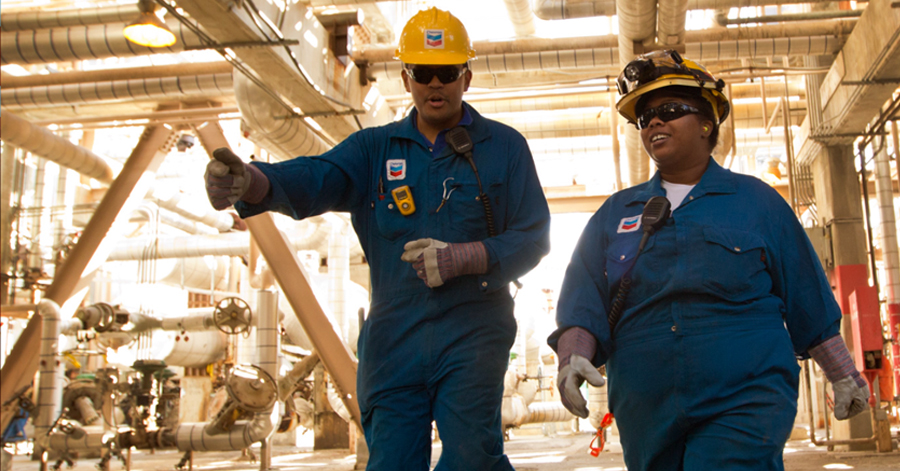 The operational excellence principles are defined as the systematic management of personal safety, process safety as well as health, reliability, the environment, and efficiency to achieve top performance. Operational excellence is based on five integral goals:
Achieve an injury-free and incident free workplace

Promote and support a healthier work environment while mitigating major workplace risks.

Clearly identify and mitigate process and environmental safety risks.

Function with industry-leading asset reliability and integrity.

Use natural resources as efficiently as possible.
One of the most successful companies championing organizational excellence principles is Chevron. By embracing operational excellence principles, Chevron has been able to effectively identify and manage the risks they encounter in their global business operations. Continue reading to learn how Chevron uses the operational excellence principles to grow and thrive in a global economy.
Why Does Chevron Use Operational Excellence Principles?
Chevron is committed to creating superior value for customers, investors, partners, local communities, host governments, and our workforce. In order to succeed and achieve this goal, Chevron has to deliver world-class performance that exceeds the abilities of their strongest competitors.
The operational excellence principles have proven to be one of the most critical drivers and remains an integral part of the enterprise execution strategy. It has become their organizational standard for delivering world-class performance. Chevron has used operational excellence principles to create a culture where every employee believes all accidents and incidents are completely preventable. In addition, every employee has to believe that "zero incidents" is achievable.
Top-to-Bottom Approach to Operational Excellence Principles
Operational excellence is Chevron's standard approach for systematically identifying and closing performance gaps. This top-to-bottom approach works because of the leader-driven assessment of gaps and strengths, regular review of progress, completion of risk-reducing actions, and continual improvement.
Although the leadership is primarily responsible for managing the organizational excellence management system and enabling operational excellence performance, every employee at Chevron owns the responsibilities of
Chevron's success has depended on every employee applying the operational excellence principles on a daily basis. From top-to-bottom, everyone works to recognize hazards, take the appropriate steps, follow the proper procedures, and effectively manage workplace changes. If required, every employee in Chevron's workforce can exercise stop-work authority.
Utilizing the operational excellence principles, this global company has effectively integrated the OE objectives, processes, plans, behaviors, and standards into their daily operations to protect their most valuable asset — people — and the environment for today and tomorrow.
Leadership Accountability Is Critical
The single largest factor for success in operational excellence is leadership. Chevron's leaders set the vision and objectives driving and challenging the organization to achieve world-class results. Leaders must be focused on not only getting results — but getting those results the right way and acting in line with the organizational values.
Leading by doing, leaders must:
The Management System Process
The Management System Process (MSP) is the systematic approach utilized to drive progress toward world-class performance. The MSP helps to integrate operational excellence goals as well as activities and plans into daily operations. The Management System Process is based on five operational excellence steps:
Vision and Objectives: The operational excellence vision is created or validated. At the same time, specific measures and objectives for success are identified and cascaded to the workforce.
Assessment: A comprehensive operational excellence Self Assessment is conducted at least once a year to identify gaps in standards, processes, and performance against the objectives established. In addition, the leaders are regularly engaged in assessments and participates in assessed gaps.
Planning: A 3-year plan is established to effectively manage the prioritized gaps. These plans are incorporated into the business plan and employee accountabilities are assigned to oversee execution.
Implementation: All planned actions are implemented across the organization as well as any other business plan activities.
Review: An annual review of all performance measures should be conducted to benchmark progress. Most importantly, the review will highlight where adjustments are required to achieve the desired world-class performance.
Contact Premier Safety Partners to Implement Operational Excellence Principles
If you're looking for innovative ways to enhance safety and bolster your bottom line, Premier Safety Partner's operational excellence training courses may be the ideal solution. We can customize the training criteria based on the unique needs of your organization. As leaders in health and safety, we bring decades of experience working with companies across a variety of industries, such as:
​Regardless of your needs or where your organization is with operational excellence, we can help you get to where you want to be.
Contact Premier Safety Partners today to learn more about our operational excellence training courses.