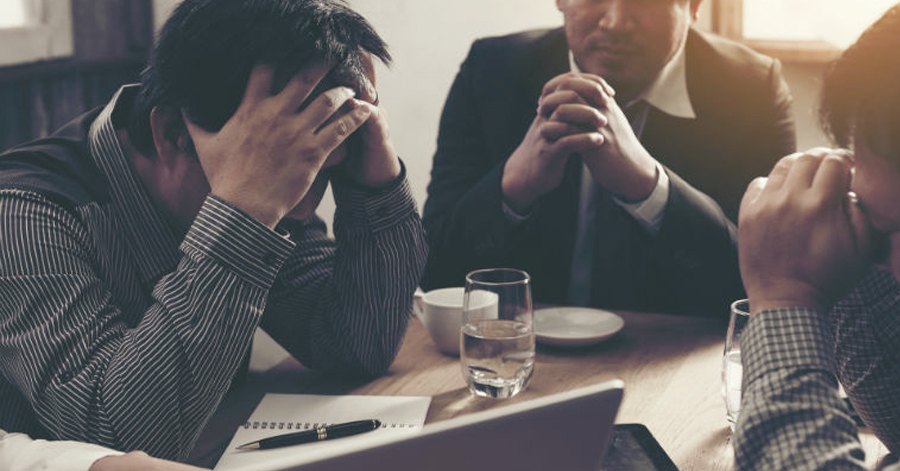 Are you aware of the effects employee stress is having on your productivity and bottom line? Hailed as "the health epidemic of the 21st century" by the World Health Organization, organizational stress trickles down from business owners to managers and down to the employees.
If employee stress isn't addressed, it can hamper productivity while causing an increase in accidents, unreported near misses, and safety incidents. However, you don't have to let employee stress go unchecked. Continue reading to learn more about employee stress, how to spot it in the workplace, and ways management can proactively combat employee stress.
What is Employee Stress?
Employee emotional stress can be defined as the pressure, tension, or strain that results in psychological and/or physiological effect on someone's body or a deforming effect on their emotions. For instance, sexual harassment, abuse, or exposure to a traumatic workplace event could cause employee stress.
What's Employee Stress Costing Your Business?
Employee stress is estimated to cost American businesses up to a staggering $300 billion every year according to BusinessNewsDaily.com. Even though they do not represent a significant amount of workplace claims, employee stress is the fastest growing claim type today — and could be the largest hidden cost for your business.
A study conducted by the National Institute for Occupational Safety and Health (NIOSH) discovered over 50% of the U.S. workforce consider job stress a major problem in their lives.
A recent survey of a large provider of employee assistance programs — ComPsych — revealed the dimensions and impacts of the employee stress problem:
21% of respondents said employee stress caused them to make errors or miss deadlines
15.5% of respondents reported employee stress caused them problems getting along with superiors or coworkers
14.9% of respondents reported employee stress caused them to miss days of work
14.4% of respondents reported employee stress resulted in tardiness
What Are Signs of Employee Stress?
There are several observable indicators of employee stress. Some of the most common signs for individuals include:
Fatigue
Headaches
Muscular tension
Heart palpitations
Gastrointestinal upsets, such as constipation or diarrhoea
Insomnia and other sleeping difficulties
Dermatological colors
While the previously mentioned symptoms are for individual observations, the following trends and observations can be seen on a group level:
They have a short temper
Increase in staff turnover
General increase in absenteeism
Disputes and arguments between staff
An increase in complaints and grievances
What Can Be Done About Employee Stress?
Although every workspace is different, there are a few common things management can do to reduce workplace stress and create a holistically more comfortable and safer environment.
Encourage Breaks
It's important for all employees to take breaks throughout the day — including salaried employees. As a matter of fact, studies show people are most productive if they work in 90-minute sprints punctuated by 20-minute breaks.
Encourage Employee Wellness Programs
Implementing an employee wellness program can communicate you care about your employees while highlighting the resources available to them. Good examples of employee wellness programs include:
Running group-wide healthy eating challenges
Paying for a portion of their gym memberships
Offering smoking cessation programs
Encouraging alternative transportation methods, such as public transit incentives or bike sharing
Provide yoga classes
Listen
In many instances, employees simply want to be heard and want the opportunity to share what they are feeling and thinking. Creating a sustainable and viable solution for employees to express their complaints and/or concerns is an excellent way to take the pulse of your workforce and alleviate employee stress in the process.
Create a Pleasant Working Environment
No one wants to spend their days working in an environment that is noisy, cluttered, unpleasant, and dirty. Most studies show that excessive disarray and clutter is directly related to increased anxiety and stress.
At the same time, clutter can make it more difficult for your employees to complete their tasks. While you may not be able to transform the physical environment, you can encourage workers to manage noise levels and keep the place clean.
Lead by Example
In order to reduce employee stress, it's vital for management to be on board and lead by example. As a leader, you must manage your emotions and avoid allowing negativity, stress, or anger rub off on your employees. A few simple action items you can use to reduce and manage employee stress are:
Arrange socializing opportunities with the team
Organize walking meetings instead of office meetings
Make sure you take regular breaks
Contact ATI of New York Today
One of the most essential ways to reduce employee stress is to create a culture of safety. At Premier Safety Partners, we are the experts in safety and offer years of experience helping organizations create programs designed to guide and influence employees toward safer and more desirable outcomes.
Contact ATI of New York today to schedule a health and safety consultation.