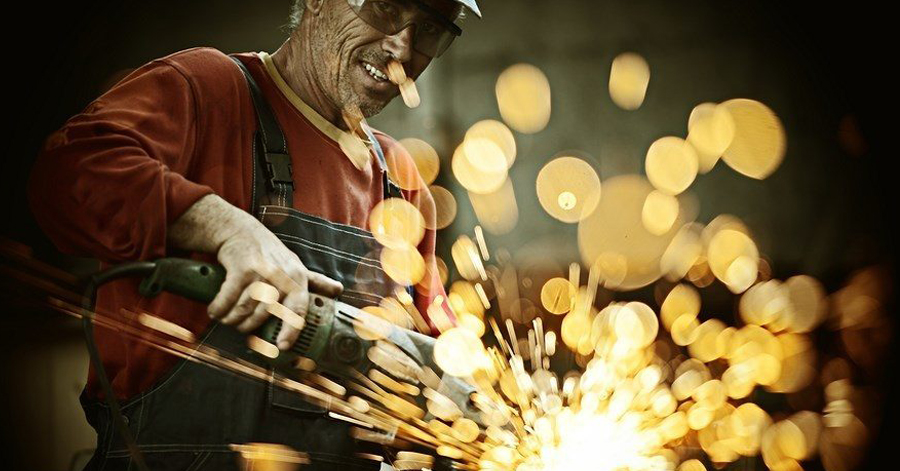 Mark Twain explains the importance of workplace safety with the sentiment, "It's better to be careful 100 times than to get killed once."
In today's workforce, 80 out of every 100 accidents are caused by the individual involved in the incident. This statistic may substantiate the notion that a large majority of accidents happen because workers are not taking the right precautions. However, there are a long list of reasons explaining how and why accidents happen.
The rest of this article will fully answer the question: "Why do accidents happen in the workplace?" I'll explain the seven of the most common reasons for workplace accidents and injuries, and give insight into how to prevent them, which should be everyone's goal at the end of the day.
Learn Why Accidents Happen with Our Infographic
Click to view full infographic »
Overconfident Workers May Explain Why Accidents Happen
Although confidence is a great attribute to have, overconfident employees can cause accidents. If a construction worker walks into the workplace each day with the attitude of "that will never happen to me," they may be overconfident.
Safety is an action word that must permeate in the very core of the organization and through all employees all of the time. Overconfidence is the antithesis of safety and leads to improper methods, incorrect procedures, and the misuse of tools. It' great to be confident, but it's important everyone understands they're not invincible.
Lack of Housekeeping and Disarray Causes Injuries
Anytime someone enters your workplace, they can almost instantly detect your attitude toward safety by the cleanliness of the area.
In addition to safety, poor housekeeping can have an affect production. In other words, a poorly kept manufacturing workplace can be a threat to everyone and result in an endless number of hazards. On the other hand, good housekeeping and tidy workplaces will increase the overall safety and productivity of your organization. Most importantly, it sets a standard of excellence that everyone can adhere to.
Distractions May Explain How Accidents Happen
Although everyone has a life outside of work, life's distractions can sometimes interfere and cause hazards In the event an employee has a traumatic event like a divorce or illness, it can have adverse effects on their mood and emotions negatively. Even so, it's important workers do not allow their personal problems affect their performance while on the job.
It's important for management and the workforce to understand that distracted workers are less aware of their surroundings and less productive. This type of activity causes accidents, which will cost the company money and time. In the end, distracted workers are more likely to cause accidents.
Safety Procedure Neglect Is Dangerous
Organizations have safety procedures in place and educate their workforce to prevent accidents from happening. One of the worst things any employee can do is to neglect or ignore the safety procedures.
Whether it's deliberate or unintentional, neglecting safety procedures in the workplace places the individual and everyone else in the organization in danger.
In addition, safety procedure neglect places the entire company at risk. It's also not enough for the workforce to casually follow the safety procedures. Instead, the safety procedures must be viewed as an inherent function of all job functions and must be adhered to in all circumstances.
Beginning a Task Prior to Receiving All Information Is Hazardous
The absolute best and quickest way to complete a job is to do it right the first time around. In order to achieve this goal, you must have all relevant information before starting the task. If a worker starts a job with half of the instructions or piecemeal information, they are less likely to complete the task.
It's important to communicate to everyone in the organization that it's never stupid to ask questions; instead it's stupid not to ask questions.
Failure to Prepare Before Starting a Job Leads to Incomplete Tasks
It's important for organizations in certain industries to utilize the Job Hazard Analysis (JHA). These highly effective tools will help your workforce discover the best way to work efficiently and safely. If your employees start a task hastily or fail to think it out beforehand, they are much more likely to fail. As a result, it's a good practice to always work a out a plan and then follow through with the plan as scheduled.
Taking Shortcuts Creates Exposure
Since people can be lazy, it shouldn't come as a surprise that laziness is one of the common reasons why accidents happen. However, when laziness is combined with the lethal chemicals or dangerous machinery - such as in the energy sector - it could lead to an all out catastrophe.
Avoid unfortunate outcomes and ensure employees follow the right procedures every time without taking shortcuts. .
Prevent Accidents with Premier Safety Partners
The first step in preventing accidents is to have a clear understanding of why accidents happen. Once you understand the causes of accidents for your specific industry, you can develop a clear policy to help circumvent the underlying hazards. Premier Safety Partners brings more than 20 years of experience helping businesses across all industries.
Contact Premier Safety Partners today to protect the lives of your employees and organization.