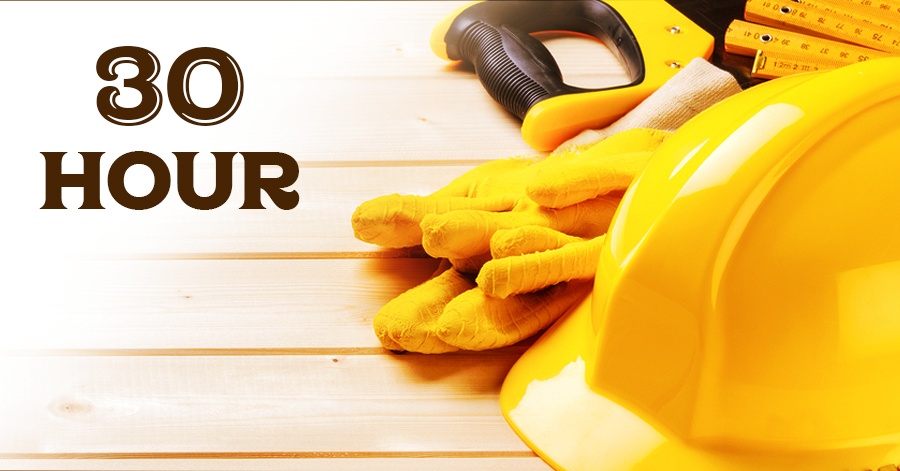 The OSHA 30 hour training certification program is designed to provide training for workers tasked with greater safety responsibilities in construction and several other industries. Contrary to popular belief, the OSHA 30 hour training certification doesn't train the individual on OSHA standards.
Instead, this intuitive course works to train employees and safety personnel on how to create a safer and more profitable work environment through hazard identification, risk avoidance, control and prevention. Continue reading to learn more about the core elements of the OSHA 30 hour certification.
Hazard Identification
Whether you're in the energy sector, defense & space, or any other industry, hazard identification is an integral part of an illness and injury prevention program. It's a collective term that encompasses all of the activities involved in evaluating and identifying hazards.
The goal of hazard identification is to ensure certain risks to employees, the environment, and public are consistently controlled within the risk tolerance of the organization. In general, most hazard identification initiatives look to answer three main questions:
1. Hazard - What could possibly go wrong?
2. Consequences - How bad could it be?
3. Likelihood - How often might it happen?
Hazard identification allows potential dangers to be preemptively identified and mitigated properly.
Why Is Hazard Identification Important?
One of the core elements covered in the 30-hour training is hazard identification. In order to manage risks, hazards must be identified and carefully evaluated to determine if they're tolerable. The earlier an effective risk analysis is conducted, the more cost effective safe operation in the future will be.
The understanding of risk developed through the hazard identification process creates the basis for establishing other safety management processes. Failing to accurately perceive risk during hazard identification could lead to inefficient use of valuable resources or unknowingly accepting risks that exceed the risk tolerance of the company.
What is Risk Avoidance?
Risk avoidance is the elimination of activities, hazards, and exposures that may have a negative effect on the organization. While risk management looks to manage and mitigate risk, risk avoidance looks to completely circumvent compromising events. Even though it may be rare to completely eliminate all risks, risk avoidance is a unique strategy designed to minimize as many threats as possible. A few of the most prevalent risk avoidance strategies include:
Procedures and policies
Employee Training
Implementation of safety technologies
Hazard Control & Prevention
If risks are unable to be avoided, the best solution is to control and prevent them. In addition to the hierarchy of controls, the certification covers the following methods of hazard control and prevention:
Engineering Controls are designed to control the hazard at the source through removal, substitution, enclosing the hazard to prevent exposure, or establish barriers or ventilation to reduce exposure.
Safe Work Practices are the company's general operational and workplace rules to further reduce exposure to the hazard.
Administrative Controls are additional measures at reducing employee hazard exposure, including rotation of workers, exercise breaks, and relief workers. Administrative controls are typically used in conjunction with other controls.
Personal Protective Equipment are a supplementary method of control through the use of protective equipment and clothing.
Hazard Correction Systems include documentation, inspection reports, and accident investigations.
Preventative Maintenance plays a central role in making sure hazard controls continue to effectively function, while preventing new hazards from arising through malfunctioning equipment.
Emergency Preparation is important because hazards are likely to appear that are nonexistent during normal conditions. It's important to be aware of these situations to control or prevent the hazards from creating safety incidents.
Medical Programs will deliver services to prevent hazards that cause injury and illness, limit the severity of work-related illnesses and injuries, and deliver treatment.
Benefits of OSHA 30 Hour Training Certification
Improve the overall safety of your organization and bolster your bottom line through with OSHA 30 hour training. This comprehensive safety training course provides organizations with the following benefits:
The program promotes safety culture through intuitive peer training
The training curriculum utilize hands-on activities to bolster participation
The OSHA 30 hour certification curriculum can be customized to meet the specific needs of your organization
The program covers hazard identification, avoidance, employer responsibilities, and more.
The certification emphasizes the importance and value of safety and health to all workers
The training material is available in English, Spanish, and several other languages
Contact Premier Safety Partners for OSHA 30 Hour Training Certification
At Premier Safety Partners, we specialize in safety. We provide a comprehensive list of services, including OSHA 30 hour certification training, to reduce the occurrence and propensity of safety incidents. As a full-service safety consulting firm, we offer everything from training, consulting, staffing, and much more to bolster processes across your business.
Contact Premier Safety Partners today to schedule a complimentary onsite consultation.​