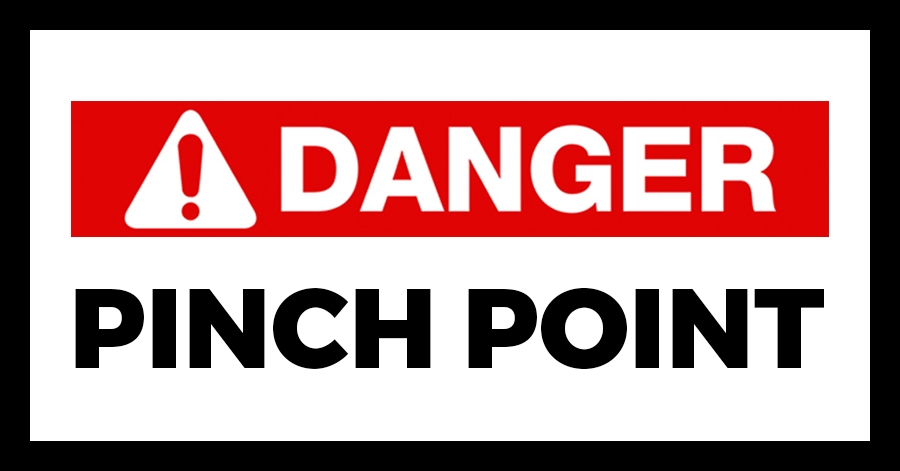 When it comes to working or operating machinery with rotating parts, pinch point safety is imperative. In the work environment, pinch points are used to explain situations where hand tools, machines, and various conditions place body parts or a worker's entire body at risk.
A pinch point injury can be the result of something as large as an excavator or as small as a pair of pliers. As a matter of fact, most tools and equipment have pinch points. Of the millions of disabling accidents that happen on the job, one third of them are hand injuries. Approximately 80% of these hand injuries are caused by pinch points.
Since pinch points are the cause of such a large number of injuries, it's best to implement viable pinch point safety in the workplace. Continue reading for a few pinch point safety tips to reduce injuries and improve safety.
See The Pinch Point Safety Tips in Our Infographic Below
Click to view full infographic »
What Are Pinch Points?
Traditionally, pinch points are associated with large shearing equipment and power presses. However, pinch points may be created by any mechanism with parts inside of the machine moving toward each other. Pinch points can also be caused by an object moving toward something stationary.
Pinch point hazards can be as narrow as the space between crane outriggers or as wide as a doorway. While there are countless machines that create pinch points, some of the most common include:
Loaders
Gears
Conveyors
And more
According to the Occupational Safety and Health Administration, employees caught in pinch points may suffer crushed, mangled, or even severed body parts.
Prevent Pinch Point Injuries with Awareness
Pinch Point Safety Labels
In any given workplace, there are several things and activities that can cause workers to be injured by pinch pinch points. Many of these hazards are unavoidable. For these unavoidable hazards, it's imperative to ensure workers are constantly aware and alert of the hazards by using pinch point safety labels.
Pinch point safety labels are a relatively inexpensive, but effective way to keep workers aware of the pinch hazards.
Know the Dangers
Certain pinch points are blaringly clear. These pinch points will typically have guards and mechanisms alerting the workers of the hazard. Other pinch points are less obvious, but can still result in serious injuries - even death. In either case, it's important to know the danger. For instance:
Vehicles in reverse could crush a worker against the wall.
Closely stored drums or crates may pinch hands or fingers between each other and a dolly.
The rungs of an extension ladder can catch feet, hands, and fingers as they slide past each other.
Once you identify potential pinch point hazards, use safety labels and include the identified pinch points in training material.
Stay Focused
In any given workplace, there are countless distractions. However, it's imperative for workers to remain focused on the task - regardless of how small the task may be - at all times. Failure to do so may result in minor to major pinch point injuries.
Pinch point injuries from container lids, hinges, doors, etc. may all be the result of a worker performing the task while distracted. As a matter of fact, a large number of workplace injuries are caused by distracted workers. Prevent injuries by reminding workers to pay attention to the task at hand.
General Pinch Point Safety Tips
OSHA suggests using machine guards to help prevent the likelihood of pinch point injuries. You can also provide comprehensive pinch point safety training on all of the equipment used on any given site. The training will help protect employees and teach everyone on the site about the hazards of pinch points and how to avoid those hazards.
After the training, it vital to hold supervisors and employees accountable for adhering to the safety practices. In addition, it's important to encourage employees to communicate near-misses and safety concerns, which will both help avoid accidents before they ever happen.
A few additional pinch point safety tips to prevent injuries include:
Regularly inspect guards and machines often.
Only allow properly trained employees to maintain and operate equipment.
Never turn your back or walk way from a machine that is coasting or turned on.
Ensure all employees wear the necessary personal protective equipment.
Keep floors free of debris and clean to prevent trip and fall accidents.
Point out and discuss pinch point hazards as a regular facet of risk assessment meetings.
Contact Premier Safety Partners for Pinch Point Safety Solutions

Premier Safety Partners is a leading provider of innovative safety solutions and services designed to mitigate organizational risk and ensure compliance. We offer cutting-edge solutions to help reduce the risk associated with pinch point hazards.
We specialize in providing safety services for a list of industries, including:
Contact Premier Safety Partners today to schedule a complimentary pinch point safety inspection.