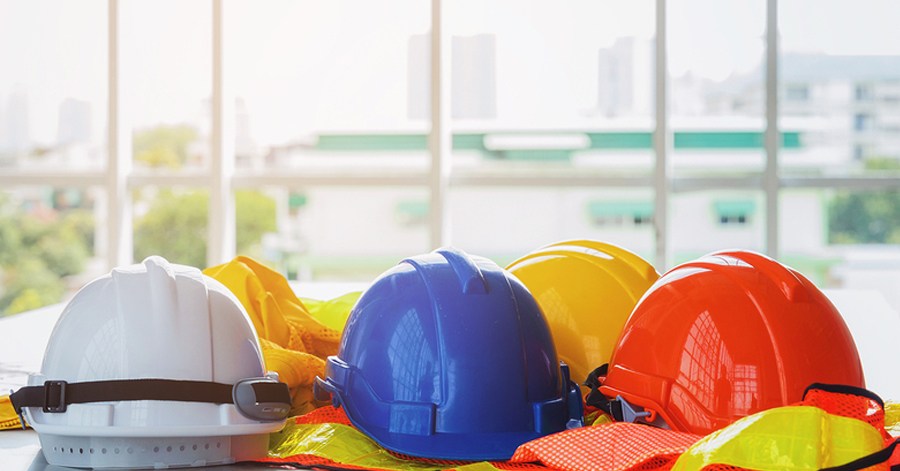 The numbers do not lie: the most dangerous job you can have in New York — and everywhere else in the world — is in the construction industry. However, there are several on-site construction safety best practices you can use to help prevent and avoid injuries.
Why are on-site construction safety best practices necessary? In 2014, the Bureau of Labor Statistics (BLS) reported that there were a total of 899 fatalities in the construction industry. This number represented almost 20% of the nation's total work-related deaths (4,821) — that's one in five workers killed on the job in the United States were construction workers.
1 out of 5 Fatalities in the U.S. Workforce Happened in the Construction Industry
Let's take a look at how construction industry fatalities stack up against other industries in 2014:
| | |
| --- | --- |
| Industry | Fatalities |
| Construction | 899 |
| Transportation & Warehousing | 766 |
| Agriculture, Hunting, Fishing, Forestry | 584 |
| Government | 435 |
| Business & Professional Services | 425 |
| Total Fatalities for All Industries | 4,821 |
Unfortunately, many of these construction industry fatalities could've been prevented if the on-site construction safety best practices were used. Let's take a deeper dive into some of the most critical on-site construction safety best practices every work site should use.
On-Site Construction Safety Best Practices Start with Awareness
Prior to any employee — regardless of their experience level or role — setting foot on any construction site, they should be fully aware of all potential hazards. Simply put, an ignorant worker is arguably the most dangerous person. These people are completely unaware of how their unknowing mistakes place everyone on the site at risk.
Having a clear understanding of the risks at hand and maintaining a continual state of alertness is one way to prevent accidents. And the best way to ensure everyone on the worksite is aware of the risks at and is through the construction training offered by Premier Safety Partners.
Training to Keep Your Workforce Safe
Even though the majority of a construction worker's skills are gained through on-the-job training, safety is one skill that is best retained prior to starting on a construction site. The Occupational Safety and Health Administration publishes resources and training curriculum to help your employees stay informed and aware of standard security and safety procedures. Two of the most prevalent OSHA construction safety courses include:
All of your construction site employees should be expected to continue their education and training through annual refreshes. Premier Safety Partners offers a wide range of training services for new construction workers as well as refresher courses for seasoned workers.
Communication Ranks at the Top of On-Site Construction Safety Best Practices
Accidents are much more likely to occur whenever construction workers do not know what to expect. However, you can overcome this common folly by increasing direct communication. One solution is to have regular team meetings during the morning to communicate the day's activities and goals.
You can also review the most prevalent hazards to reduce surprises that may cause bodily harm. Another tip is to equip your workers with devices — like headsets or smartphones — to allow efficient and fast communication whenever a hazard is observed. If you decide to use smartphones, make sure you communicate the cell phone safety best practices.
Maintain Accurate and Up-to-Date Documentation
Prior to building anything, there are several legal hoops construction companies are required to jump through. And when you make these leaps, it's vital to ensure all of the proper licenses and registrations are earned and documented. Anytime a contractor or supervisor is tasked with a difficult job, such as blasting, you should require a copy of their certification prior to them working on your job site.
This simple step can help avoid accidents caused by improper training, and it can protect your business from potential lawsuits. While you never want your employees' heads to be in the clouds, you can expedite and better organize your documentation efforts by using mobile and cloud technology.
Always Require Proper Safety Equipment
If your employees are equipped with the wrong gear, they are destined to make mistakes — sometimes fatal. Every piece of equipment on the job site should be best suited to the task at hand, and you should go above and beyond to ensure all materials and machinery are properly maintained.
In addition to the essential safety equipment, you should also consider additional equipment not directly tied to the construction project. Make sure to provide ample on-site water and even a place for shade, so your workers do not experience dehydration and other exposure-related illnesses. If your construction project is larger, you may even benefit from structures to house equipment.
Contact PSP for On-Site Construction Safety Best Practices
Although construction sites are notoriously dangerous, the experts at Premier Safety Partners can work with you to help make it a safer and more productive environment.
Contact Premier Safety Partners today to learn more about the most effective on-site construction safety best practices.