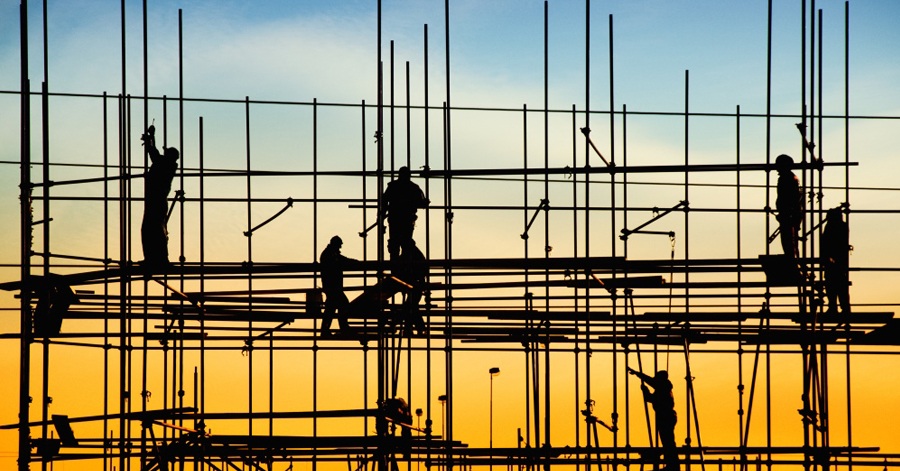 Regardless of your industry, it's vital to use scaffolding safety tips anytime someone is working on a raised scaffold. Failure to do so could result in serious injuries or fatalities. According to OSHA, in 2007 88 people suffered fatalities in scaffolding accidents; 72% of those accidents were the result of:
Planking or other support structures giving way
Employees being injured by falling debris
Employees slipping
In most instances, these accidents could've been avoided - if the workers had taken the proper precautions and used the following simple but effective scaffolding safety tips.
Identify Hazards
Before any work is done, all hazards should be identified. However, hazard identification shouldn't stop once the work begins — it should continue throughout the project. In the process of identifying hazards, you should also identify safety controls and solutions you can implement to mitigate or completely neutralize the hazard.
For instance:
Are you working near powerlines?
Make sure to keep scaffolding far enough away from the lines to prevent electrocution risks.

Will your workers need to move the scaffold during the project?


Create a safety plan prior to each erection.
By carefully considering the hazards and controls, you can proactively take steps to prevent dangerous if not fatal accidents.
Always Secure the Platform
The actual scaffold is engineered to be either attached entirely to the building or braced by the building. If the bracing isn't secured properly, the movement of the scaffold could dislodge an end and drastically reduce the overall stability of the scaffold.
Locking systems or brace retention systems are designed to attach your scaffold. These systems need to operate freely during dismantling and assembly. They should also be able to lock to avoid the brace from dislodging. In the event a part needs to be replaced, you should never attempt to replace parts provided by the manufacturer with miscellaneous substitutions, such as nails.
Use Guardrails
The guardrails are a critical component of scaffolding safety, and it's imperative to always take advantage of them. It's key for construction companies to ensure any scaffolding more than 10 feet high has guardrails on the three sides facing away from the building — at the very minimum.
Although the side facing the building isn't required to have guardrails, you should still consider it a danger and strongly consider using guardrails there as well. Even when guardrails are in use, they shouldn't be viewed as a replacement for fall protection gear and other personal protective equipment, which must be worn at all times while working on the scaffold.
Understand and Adhere to Load Capacity
One of the main mistakes made during the design stages of scaffolding is failing to consider the different loads the material will be under during setup and construction. To keep everyone safe, you should never overload the scaffold with more employees or equipment than it is rated.
Far too often, people take shortcuts and overload the scaffold in an effort to save time. This safety oversight often leads to costly injuries and delays in the project. In addition, you should ensure nothing pushes against any guardrails of the scaffold.
Inspect the Scaffold
Scaffolds must be continually inspected and maintained to ensure it's safe and maintains structural integrity. It's best to have an experienced health and safety expert with scaffolding equipment knowledge inspect the device to ensure it's safe and functioning. In the process, the boards and other components should be inspected to make sure they're in tact.
If you fail to maintain the crucial components on a regular basis, it could lead to hazardous situations. In addition to never using a defective scaffold, you should take special caution any time the scaffold has been:
Moved or taken apart
Altered or changed in any way
Newly assembled
Anything else that may affect the structural integrity of the scaffold
Suspended Scaffold Training
Untrained workers are one of the top causes of scaffolding injuries in the United States. As a result, OSHA requires employers to properly train their employees who will perform work on the scaffold.
The subject matter experts at Premier Safety Partners offer suspended scaffold training to help your employees recognize hazards and understand the control measures in place to minimize or control the hazards. We will customize your training to meet the unique needs of the job site and environment.
Contact Premier Safety Partners for Scaffold Safety Tips
If you're planning on using a scaffold on your next project or job site, the experts at Premier Safety Partners can help keep your employees safe and project on schedule. We bring decades of experience implementing industry-best scaffolding safety tips. Our health and safety experts will come to your site to provide fully customizable suspended scaffold training.
Contact Premier Safety Partners today for a free consultation.